Tom le Grange
May 12
Classic Installations | Mobile Website | YoMobi -
Our new mobile website for smart phones. Please take a look, rate and comment: http://installations.yomobi.com/
Apr 03
South Africa Local Search Engine - classic installations -
Please visit our site
Apr 01
http://tomlegrange.blogspot.com/
See on Scoop.it - Jacuzzi Installation and Repair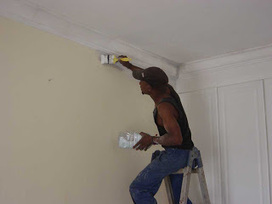 We paint and refurbish all surfaces, including walls, all types of roofs, window frames, gutters, down pipes, fascia boards, wooden decks, carports, palisade fences,swimming pools, dry walling etc. We do conventional painting as well as spray painting. We repair damp rot and rising damp in walls. 
See on tomlegrange.blogspot.com
National Spa Week Returns This April
See on Scoop.it - Jacuzzi Installation and Repair

For anyone looking for a little "me" time at an affordable price, look no further than National Spa Week.
Tom le Grange's insight:
We do Jacuzzi / spa installations with circulation pump, blower pump (bubbles) & heater systems. We also do repairs of existing systems. We supply spa insulating covers. We service the Greater Johannesburg area. You are welcome to supply your own material (spa bath, pump system etc.)  Alternatively, we can supply the material from reputable manufacturers & suppliers.
See on uptownmagazine.com
Mar 31
Do you have a driveway or courtyard that you want to get paved? Did you have a burst water pipe repaired and your paving was not replaced afterwards?
We do paving and paving repairs, as well as the painting of concrete paving bricks. We are available to pave areas less than 50 m²
 If you have a drainage problem in this area, we can install a drainage system at the same time.
 For  more information, please visit our blog: http://tinyurl.com/bo9dxuw
Jacuzzi Installations and Repairs -
We do Jacuzzi / spa installations with circulation pump, blower pump (bubbles) & heater systems. We also do repairs of existing systems. For more in formation, please visit this webpage: http://tinyurl.com/cqg38wm
Mar 26
Please take a look at our new mobile website for smart phones. Please let me know via email if you find any bugs…
Mar 24
Classic Installations (installations) on Infostripe
Mar 18
[video]
[video]